FRANKFORT, Ky. (November 22, 2022) – Russell Coleman officially filed to seek the Republican nomination for Kentucky Attorney General at the State Capitol today. Coleman, a former U.S. Attorney and FBI Special Agent, is a pro-life, pro-gun and pro-police conservative who has an unmatched record of locking up violent criminals and protecting Kentucky families. Former career federal prosecutor and U.S. Attorney Rob Duncan and Clinton County Circuit Court Clerk Jake Staton, who have both previously endorsed Coleman, also signed his paperwork.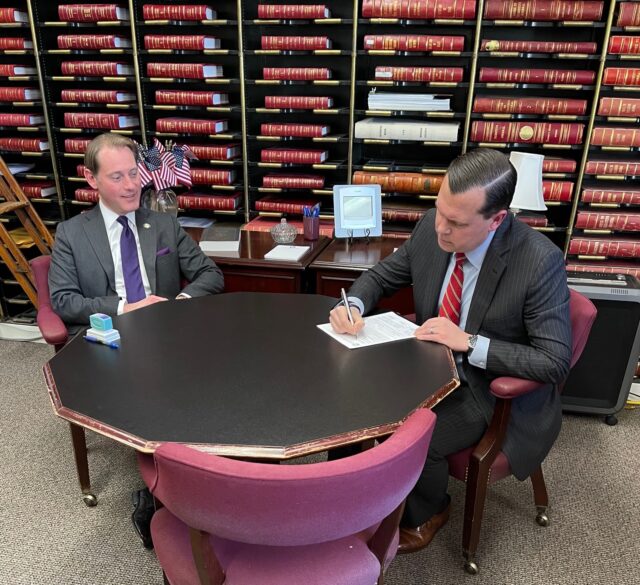 "Kentucky families are under attack from violent criminals and deadly drugs. We need an Attorney General with the experience to lock up the worst offenders and keep our people safe," said Russell Coleman, Republican candidate for Kentucky Attorney General. "I look forward to building on the great work of current Attorney General Daniel Cameron to stand strong for law enforcement, defend our values and protect Kentucky communities." 
Coleman is the most qualified Kentuckian ever to run for Attorney General, already earning endorsements from more than 100 local, state and national leaders. He has raised more than $500,000 since announcing his campaign in May and is prepared to continue his life's work taking on violent crime and dangerous drug traffickers as Attorney General.
"I've had the privilege to call Russell Coleman a colleague and friend, and I know he will make Kentucky proud as our next Attorney General," said Rob Duncan, former U.S. Attorney for the Eastern District of Kentucky. "We worked together to take on violent crime and to fight the drug epidemic, and Kentucky law enforcement will have no stronger friend in the Attorney General's office than Russell Coleman."
"Russell Coleman is undoubtedly the best choice to be Kentucky's next Attorney General. He brings unparalleled experience, steadfast conservative values and a commitment to our Constitution that will serve us well. I'm proud to be part of his campaign, and I look forward to his many achievements for Kentucky," said Clinton County Court Clerk Jake Staton. 
###